NAVIGATING BREXIT
Need practical advice on navigating Brexit?
Discover our practical steps for business leaders
A growing economy and continued efforts by the government to remove regulatory hurdles and attract foreign investment continue to drive deal momentum in India.
The value of corporate deals in India has doubled in the year to date compared to 2017, driven by big ticket consolidation across various sectors. There have already been 10 billion-dollar deals this year, capturing 74% of total deal value, with deal volume more muted.
M&A is expected to gain further momentum following amendments to the insolvency and bankruptcy codes recently passed by the Indian parliament. This is likely to result in a number of distressed assets coming up for sale at attractive valuations, particularly in capital-intensive sectors such as real estate, infrastructure, power and cement.
Deal activity is also likely to be boosted by India's 'Housing for All' scheme, which should have a multiplier effect across the value chain, as well as the growth in credit as a result of the recapitalisation of public sector undertaking (PSU) banks, along with non-performing asset (NPA) resolutions.
The Securities and Exchange Board of India's recent announcement of a reduction from five to three in the number of years of financial information that need to be provided will give impetus to IPO activity.
A strong capital market and regulatory reforms, including the new insolvency law, are signs of increasing depth and maturity, making the Indian market more attractive.
Record year for M&A and PE deal activity
2018 to date has been a breakthrough year for the Indian market with its highest ever half yearly deal tally of USD75 billion across 638 transactions, almost double the deal value witnessed in the same period last year.
In addition to 10 deals in the billion-dollar category, there were 52 deals with an estimated value above USD100 million each, which together contributed 93% of total deal value.
Table 1. Deal summary H1 2018
Deal summary
Volume
Value (USD million)
Domestic
150
105
129
8,201
3,433
22,676
Cross-border
98
84
95
7,035
4,191
24,510
Merger & internal restructuring
11
9
11
580
23,318
17,459
Total M&A
259
198
235
15,817
30,942
65,451
Private equity
499
412
403
5,920
8,380
9,397
Grand total
758
610
638
21,737
39,322
74,848
Cross border includes
Inbound
44
44
51
3,920
3,369
21,408
Outbound
54
40
44
3,115
822
3,102
Source: Grant Thornton India LLP, Grant Thornton Dealtracker, 2018
M&A driven by both domestic and cross border deals
In all there were 235 M&A transactions clocking USD65.5 billion in H1 2018, over twice the deal value for the same period last year. A favorable local deal environment saw momentum most pronounced on the domestic front, with USD41 billion worth of transactions across 140 deals for the year so far.
This surge in deal activity was driven by domestic companies' focus on scale and market expansion in light of growing competition, and by efforts to optimise capital structures.
The year to date has also seen the highest cross border deal value since H1 2011 at USD25 million, a 5.8x increase compared to H1 2017.
Inbound deal activity has witnessed a whopping 6.4-fold increase in value compared to H1 2017, primarily driven by the Walmart-Flipkart deal valued at USD16 billion. Even barring this deal, inbound deal value is up 61% on the same period last year.
Top 10 deals accounted for 84% of total M&A deal value in H1 2018
Table 2. Top M&A deals H1 2018
Top M&A deals H1 2018
Acquirer
Target
Sector
Disclosed values USD million
Deal type
Walmart Inc
Flipkart Online Services Pvt Ltd
E commerce
16,000
Majority stake
Bharti Infratel Ltd
Indus Towers Ltd
Telecom
14,600
Merger
Oil and Natural Gas Corporation
Hindustan Petroleum Corporation Ltd
Energy & Natural Resources
5,780
Controlling stake
Tata Steel Limited
Bhushan Steel Limited
Manufacturing
5,515
Controlling stake
Reliance Jio Infocomm Ltd
Reliance Communications Ltd
Telecom
3,750
Acquisition
Adani Transmission Ltd
Reliance Infrastructure Ltd – Mumbai power business
Energy & Natural Resources
2,938
Acquisition
Schneider Electric SA
Larsen & Toubro Ltd – electrical and automation business
Manufacturing
2,121
Acquisition
ReNew Power Ventures Private Limited
Ostro Energy Pvt. Ltd
Energy & Natural Resources
1,662
Acquisition
IDFC Bank Ltd
Capital First Ltd
Banking & Financial Services
1,460
Merger
UltraTech Cement Ltd
Century Textiles and Industries Ltd – cement business
Manufacturing
1,306
Acquisition
Source: Grant Thornton India LLP, Grant Thornton Dealtracker, 2018
Walmart's late stage buyout of Flipkart underscores the evident maturity of the Indian e-commerce ecosystem and is expected to strengthen investment sentiment in e-commerce and start-ups. Manufacturing, banking & financial services and information technology were other sectors with noticeably increased level of activity in H1 2018.
The telecom sector continued to consolidate in line with the trend seen over the last two years, with five completed deals valued at USD18.9 billion. Energy & natural resources (including cleantech) was another sector which saw a significant jump in deal values, with a couple of transactions in the billion-dollar plus category.
Surge in cross border activity with Europe
Cross border deal activity surged 3x in H1 2018 in terms of deal values compared to the same period last year, recording USD2.6 billion, a seven-year high, across 22 transactions.
Overseas corporate buyer activity picked up as India continued to be a focus for investment in emerging markets, driven by consolidation, restructuring and asset sales by highly-leveraged Indian companies.
Inbound deals totaled USD2.2 billion, a four-fold increase over H1 2017, across 12 transactions. This surge in deal value was primarily on account of Schneider Electric SA's acquisition of Larsen & Toubro Ltd's electrical and automation business for USD2.1 billion. This deal alone accounted for 95% of total inbound deal values and 80% of overall cross border deal value.
German and French companies showed great confidence in the Indian market, executing five deals (worth USD89 million) and three deals (worth USD2.1 billion) respectively. The manufacturing sector attracted the most attention from foreign investors, with four deals worth USD2.2 billion, while the potential of Indian start-ups was also showcased by three deals worth USD15 million.
Indian companies have been making their presence felt through a number of successful greenfield investments and landmark acquisitions. Indian brands have proven their global competitiveness by expanding into new territories during H1 2018, with 10 outbound transactions valued at USD402 million, a strong 24% increase on H1 2017.
In contrast to last year, Indian acquirers showed renewed interest in the automotive, manufacturing and energy sectors, which together contributed 93% of outbound deal value.
Notable cross border deals included:
Schneider Electric SA of France acquiring Larsen & Toubro Ltd's electrical and automation business for USD2.1 billion
Motherson Sumi Systems Ltd's deal with French company Reydel Automotive Group for USD201 million
Energy Efficiency Services Ltd (EESL EnergyPro Assets Ltd) acquiring the UK's Edina Power Services for USD76 million.
JSW Steel Ltd's deal with Italy's Aferpi SpA for USD67 million.
Graph 1. Cross border activity between India and Europe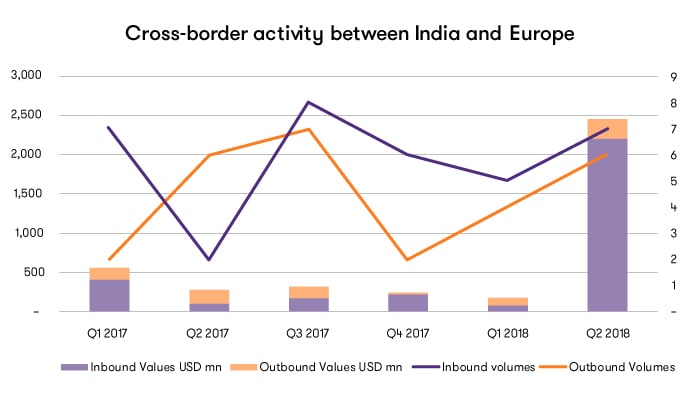 Source: Grant Thornton India LLP, Grant Thornton Dealtracker, 2018
Record-breaking private equity and venture capital activity
The first six months of 2018 have also been record-breaking for private equity (PE) deals, with over USD9 billion in transactions, a 12% increase on H1 2017.
This was largely down to big value deals valued at over USD100 million, mainly due to increasing interest from pension funds, sovereign wealth funds and global buyout funds in India.
We expect this momentum to continue on account of increased competition, the massive amounts of 'dry powder' in the form of pent-up capital to be deployed and encouraging government initiatives like incubating tech funds, among others.
The year so far has seen 26 investments valued at USD100 million and above, with 17 investments attracting funds in the USD50-99 million range, together contributing 78% of total PE investment value. Average deal size increased form USD20 million in H1 2017 to USD23 million in H1 2018.
Top 10 investments accounted for 41% of total PE deal value in H1 2018
Table 3. Top PE deals Q1 2018
Top PE deals H1 2018
Investor
Investee
Sector
% Stake
USD million
Blackstone Group Lp
Indiabulls Properties Pvt. Ltd and Indiabulls Real Estate Company
Real Estate
50%
742
GIC, Greenko Ventures and Abu Dhabi Investment Authority
Greenko Energy Holdings Pvt. Ltd
Energy & Natural Resources
N.A.
447
GIC
Exora Business Parks Limited
Real Estate
40%
406
SoftBank
Paytm E-commerce Private Limited – Paytm Mall
Start-up
N.A.
400
Lone Star Funds and RattanIndia Group
RattanIndia Finance Pvt. Ltd
Banking & Financial Services
50%
400
Brookfield Asset Management Inc
Essar Group – Equinox Business Park
Real Estate
100%
360
Alibaba Group Holding Ltd, Sands Capital, International Finance Corp. and Abraaj Capital
Innovative Retail Concepts Pvt Ltd – BigBasket.com
E-commerce
N.A.
300
CPPIB and Allianz Capital Partners
IndInfravit Trust
Infrastructure Management
55%
280
Canada Pension Plan Investment Board
ReNew Power Ventures Private Limited
Energy & Natural Resources
N.A.
247
India Grid Trust (IndiGrid)
Sterlite Power Grid Ventures Ltd – RAPP Transmission Co., Kharagpur Transmission Co. and Maheshwaram Transmission Co.
Energy & Natural Resources
N.A.
220
Source: Grant Thornton India LLP, Grant Thornton Dealtracker, 2018
After a steady fall in investment since H1 2015, the real estate sector saw the greatest level of activity in terms of deal value, with over USD2 billion of investment, followed by the start-up, energy and banking sectors, which each attracted high values investments.
Investors have shown unprecedented faith in Indian start-ups, with Paytm Mall, Swiggy and Policybazaar all entering the unicorn club of businesses valued at over USD1 billion. As a result, investment in start-ups has doubled compared to H1 2017.
Get the latest insights, events and guidance about Indian markets and businesses, straight to your inbox.