We are working to stimulate ideas and action to develop a vibrant economy in the UK.
One where growth is sustainable, prosperity more widely shared, and people and communities can realise their potential.
To help lead this nationwide inquiry, some of the country's pioneering business leaders, charity executives, local government representatives and thought leaders have formed the Vibrant Economy Commission. This commission will focus on everything from health to housing, trust to trade, regulation and regional growth.
Statement from commission chair, Will Butler-Adams, CEO, Brompton Bicycles
10 October 2016
I am delighted to announce the launch of the Vibrant Economy Commission.
Over the past year, Grant Thornton UK has worked to stimulate the ideas and plan the actions that could develop a vibrant economy in the UK.
One that empowers people to bring out their best: is founded on trust and integrity; nurtures cities and communities across the UK; and one where businesses do good as well as do well.
As chair of the Vibrant Economy Commission, I am proud to mark its launch and announce its intentions and goals.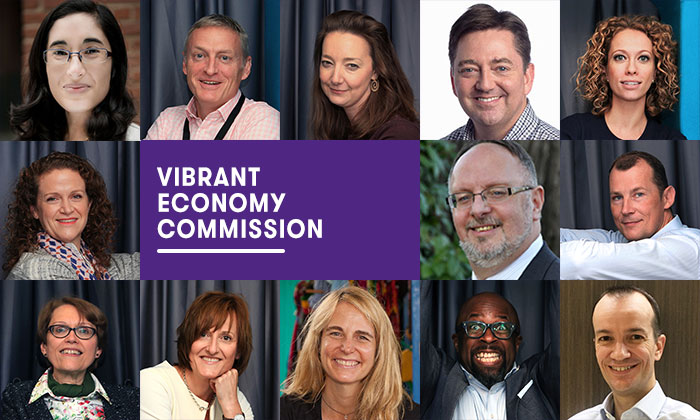 Meet the commissioners
Tunji Akintokun
Tunji is a Director at Cisco covering the mid-market customer and channel partnerships for Africa. Based in London he has held several leadership positions across Europe, Middle East, Africa, Russia and CIS during his 17 year career at the company.
Passionate about diversity in the workplace and encouraging more diverse talent in pursuing careers in Science and Technology, Tunji sits on several boards and councils in the UK including the education charity Teach First, the women's council of techUK, and Raise Tech (co-chair) a professional network for people of colour in the UK tech sector.
He is the founder of the award winning social enterprise 'Your Future, Your Ambition' which aims to inspire, excite and engage diverse talent in pursuing careers in Science & Technology (STEM).
Tunji holds a Master of Science Degree in Information Systems from London Southbank University and completed his executive education at both Wharton and Stanford Business schools.
His hobbies include supporting his local football team, Arsenal and travelling with his family, and Tunji proudly represented Cisco at the Rio 2016 Olympics as a Torchbearer.
Danny Lopez
Connect with Danny on Twitter @DannyLopezUK
Connect with Danny on LinkedIn
Danny joined Blippar in August 2016 following a career in both the private and public sectors. Blippar is a global technology company that brings the physical world to life through smart devices, using augmented reality and artificial intelligence.
Prior to joining Blippar, Danny was the British Consul General to New York and Director General for Trade & Investment in the USA, where he promoted the UK's economic profile, foreign policy and national security priorities in New York and lead the UK government's trade and investment offices across the US.
Before his diplomatic posting, Danny worked for the Mayor of London where he created and was the first CEO for 'London & Partners'. Prior to this he promoted the UK's economy internationally as Managing Director of marketing and communications at UK Trade and Investment, and worked at Barclays Bank for 10 years in both corporate and investment banking.
Danny holds a BA (Honours) degree in economics and a Master's degree in international economics and finance from the University of Essex. Danny is married and has two daughters. He is a big tennis, football and Formula 1 fan. Born in England, Danny grew up in Spain and is a fluent Spanish speaker.
Danny is an advisor to New York based VC firm, FinTech Collective; a non-executive director of the Garden Bridge Trading Company; and a Fellow of the Royal Society of Arts.
Gerald Brady
Connect with Gerald on Twitter @gezbrady
Gerald Brady is a managing director within SVB's Venture Capital Group, hired to lead two important initiatives for the company. He is responsible for leading SVB's Entrepreneur Services Group as well as the company's work with corporate venture and corporate development groups.
Gerald oversees a team dedicated to supporting emerging technology and life science companies, by engaging founders and CEOs with relevant, high-impact programming and networking events to add significant value during their development stages. He also maintains and develops relationships with corporate venture and corporate development groups, which the company believes will play an increasingly important role in the venture ecosystem in the future.
Prior to joining SVB, Gerald served as the director of investor relations for Siemens AG, where he was responsible for all aspects of investor communications in North America. Before that, he was an acquisition director in the Strategic Planning Group at Siemens Corporation, and served as a managing director of Siemens Acceleration USA, which is the early stage venture capital arm of Siemens.
Gerald has also worked at 3i in London and Palo Alto, where he was a director, investing in a number of technology businesses, including ActiveCard (ACTI), Bitfone (acquired by HP), Raw Communications (acquired by Thomson Financial) and Winery Exchange. Prior to his work in finance, he worked in the Internet and media industry, was part of the UK launch team for ZDNet in 1995, a sales manager for Yahoo! UK when it launched in 1996 and an executive at Ziff-Davis and EMAP Plc.
Claire Lewis
Claire Lewis is Ventures Director at the Co-op Group, working to create a co-operative digital community in Manchester. She is also HM Treasury's Fintech envoy for the Northern Powerhouse, Tech Advisor to the Manchester Growth Company and sits on the advisory boards for public data initiatives GM Connect and Health Connected Cities.
Previously Claire was the first Head of Tech North, a government initiative delivered by Tech City UK, to accelerate the growth of Northern England's digital economy. In 2006 Claire founded LoveLula.com, a niche online retail platform to promote and market sustainable beauty brands. After selling the business Claire became Chief Financial and Operations Officer at ClearlySo, a financial intermediary in the UK impact investing space working with tech for good start-ups and social enterprises.
Claire began her career as a Corporate Tax specialist with Arthur Andersen and moved into technology roles with global environmental consultancy ERM and Barclays Bank. She has an MA from Keble College, Oxford in PPE. She is a Fellow of the Institute of Chartered Accountants in England and Wales (ICEAW) and the Royal Society of Arts (RSA).
Nida Broughton
Connect with Nida on Twitter @FiveMinuteEcon
Nida Broughton is Head of Economic Growth and Productivity at the Behavioural Insights Team. Previously, she was Chief Economist at the Social Market Foundation, leading policy research on economic growth, public spending and employment.
Nida is also a Trustee at the Campaign for Science and Engineering. She previously worked at the House of Commons and Ofcom. She has an MA in Economics from Cambridge University and an MSc in Economics from Birkbeck College, University of London.
Will Butler-Adams, Chair
Connect with Will on Twitter @Will_Brompton
Will is the CEO for Brompton Bicycle. He is passionate about all things engineering having studied at Newcastle University; he made his early leadership mistakes taking expeditions up the Amazon and high mountains and started his first business when still a student, that still survives today.
He has worked for Nissan, ICI and Du Pont before he joined Brompton Bicycle in 2002, after meeting the inventor's best friend on a bus. He became a director in 2006 and MD in 2008. He has helped support the company growth, from £2 million turnover with 27 staff to over £33 million with 240 staff, by a setting out a strong vision and consistently employing those better than himself and giving them the freedom and tools to deliver.
All Brompton Bikes are made in London, 80% are exported to 44 countries across the world. Brompton is in a continuous state of flux and consistently taking calculated risks, supported by Will's belief that a bit of managed disorder is key to innovation and growth. Alongside Brompton's mission to change how we live in cities, making life just a little bit better, Will is also a trustee of Speakers4Schools, Commissioner for the UKCES and trustee of Inspiring the Future.
Gemma Godfrey
Connect with Gemma on Twitter @GCGodfrey
Gemma Godfrey is the founder and CEO of Moo.la, a digital investment manager and the future of finance.
Moo.la helps people manage and grow their money, by taking control of their savings and investments, and is ranked a top ten FinTech company to watch this year (by FinTech50). A trusted business expert on daytime television, Gemma makes finance simpler, more engaging and accessible.
With a background in quantum physics, Gemma was the Head of Investment Strategy at Brooks Macdonald, Chairman of the Investment Committee at Credo Capital and a Fund Manager at GAM, after starting her career at Goldman Sachs. She is a Board Advisor to Templars and CLU School of Management.
Ranked amongst the 'savviest' on Wall Street by the Wall Street Journal and on CityAM's FinTech Powerlist and one of their "most powerful women in the City", Gemma was selected by the BBC as one of the world's top 100 women "striving to make the world a better place".
Dr Alice Maynard
Connect with Alice on Twitter @MailAliceM
Dr Alice Maynard's work with the rail industry laid the foundations for the Department for Transport's 'Railways for All', making rail travel much easier for disabled people. Her doctoral thesis at Cranfield uniquely demonstrated the economic value of inclusive station design. She founded Future Inclusion in 2003 and, as its principal consultant, works across sectors increasing inclusion through better governance practices.
From 2008 to 2014, Alice led the Board of Scope, the disability charity, rebuilding Scope's reputation and turning around its financial and management capability following a root and branch governance review. The experience led Alice to establish the Association of Chairs with third sector colleagues aiming to enhance chairing in non-profits, thus improving Board and organisation performance. She now chairs Swanswell, a national drug and alcohol charity.
Alice is also a member of the Committee on Fuel Poverty, chairs a guideline committee for NICE on improving the experience of adult social care users and chairs a strategic advisory group for TfL addressing the needs of disabled travellers in London.
In 2014 Alice won the Sunday Times / Peel Hunt Not-for-profit / Public Service Organisation Non-Executive Director of the Year, and received an honorary doctorate from the University of York. She was on the Cranfield 100 Women to Watch list in 2013 and 2014 and the inaugural 'Power List' of the 100 most influential disabled people. She received a CBE in the 2015 New Year's Honours for services to disabled people and their families.
Jean Oelwang
Connect with Jean on Twitter @JeanOelwang
Jean Oelwang is President and a Trustee of Virgin Unite, the entrepreneurial foundation of the Virgin Group.
In 2003, she left her post as joint CEO of Virgin Mobile Australia to begin working with Sir Richard Branson and the Virgin staff from around the world to create Virgin Unite. Over the last 12 years, Jean has worked with partners to create new approaches to social and environmental issues, such as the Branson Centres of Entrepreneurship and a global platform to support budding entrepreneurs.
She has helped incubate a number of global leadership initiatives such as The Elders, the Carbon War Room, The B Team and Ocean Unite. In addition, Jean has been instrumental in working with Virgin's businesses and others worldwide to put driving positive change at their core.
In her previous life, Jean lived and worked on six continents helping to lead successful mobile phone start-ups in South Africa, Colombia, Bulgaria, Singapore, Hong Kong, Australia and the US.
Jean has long explored the overlap of the business and social sectors and has been involved in both, having worked for the Foundation for National Parks and Wildlife in Australia, and in numerous volunteer roles, including a stint as a VISTA volunteer where she worked with – and learned from – homeless teens in Chicago.
She sits on the Advisory Council for The Elders and the Boards of the Carbon War Room, Ocean Unite, Ocean Elders, Just Capital and the Sara Blakely Foundation. She is also a Senior Partner in the B Team.
Deb Oxley
Connect with Deb on Twitter @DebOxley
Deb is the CEO of the Employee Ownership Association (EOA) – the leading body in the UK for businesses, whether of private sector or public service origin, that are owned by their employees. The EOA represents employee owned businesses that contribute over £30 billion to UK GDP each year.
Deb has extensive experience of cross-sector influencing in order to encourage greater take-up and support of employee ownership. Her current activities are focused on growing the number of employee owned businesses in the UK, both through direct advice and assistance to businesses; and also through work to create a more informed intermediary advisor marketplace and an enlightened tax and regulatory framework for employee ownership in the UK.
Deb is a former small business owner as well as being the former Director of Membership at the EOA for three years.
She strongly advocates a much bigger role for employee ownership in the economy and greater democracy in the work place as the route to delivering better business.
She chairs the Employee Ownership Sector Group, the independent, industry led forum that provides the influential voice at the interface between the employee ownership sector and the UK Government of the day. She is also a member of the independent body, the Employee Engagement Task Force that advises Government, other political parties and also businesses across the economy on employee engagement matters.
Nick Roberts
As CEO of Atkins' in the UK & Europe, Nick provides the strategic direction and leadership of a £900 million business and a team of more than 9,500 world-respected designers, engineers and project managers who deliver projects across a wide range of infrastructure markets.
Since joining in 2002, he has held several senior positions in the UK and most recently in North America. In the UK he headed both the company's environment and rail systems consultancy divisions.
As a chartered geologist, a fellow of The Geological Society and a member of the Chartered Institution of Water and Environmental Management, Nick combines a technical background in earth and environmental science with international experience of business change and management across a variety of industry sectors.
Nick, married with three children, lives in the north west of England. Outside of work Nick is passionate about cycling and photography.
Kim Ryley
Kim has over 35 years' experience in public service, 14 of these as a dynamic Chief Executive in four top tier local authorities. He led the successful transformation of two large 'failing' unitary authorities into effective, high performing organisations – one of these was the Highly Commended runner-up as the Most Improved Council 2004, and the other was judged to be the Most Improved Council, 2010.
Since leaving his last substantive post in 2012 Kim has set up his own successful consultancy business. He has undertaken an interim Chief Executive post at Cheshire East Council and he is currently Chair of Solace in Business. He is an acknowledged thought leader for the sector on several key themes, such as public sector leadership and organisational transformation, and is a frequent keynote speaker at national and international events.
Nicole Vanderbilt
Connect with Nicole on Twitter @nmvandy
Nicole Vanderbilt joined Etsy in August 2012. Previously she held a variety of leadership roles in the consumer internet industry, including CEO of mydeco.com, VP of International for Bebo, Head of Industry Marketing at Google, and Director of Premium Communications at American Express.
Nicole holds an MBA from INSEAD and a BSE from Princeton in Architecture and Engineering. Her role is VP of International at Etsy, based in the London office.
Vibrant Economy
Find out more about how we are shaping a vibrant economy in our blog
Read more
Our purpose in action
Each year we select 100 inspiring leaders based on their commitment to growth, innovation and purpose.