A comprehensive analysis of the FTSE 350's annual reports finds that full compliance with the UK Corporate Governance Code is at 66%, the highest level ever.
Despite this achievement, key areas such ­­­­as gender diversity, investor engagement and viability statements show little improvement.
Trust in key markets underpins a vibrant economy. Given the recent government proposals on corporate governance, which included a proposed governance code for private companies, and the upcoming FRC Code revision, it is now more important than ever for businesses to improve their corporate governance.
Be the first to receive the latest governance and board updates by email, including the launch of our best practice reporting toolkit in November and the benchmarking tool.
Read more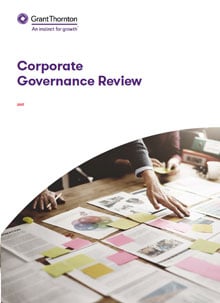 Governance
Video: 2017 Corporate Governance Review explained
Simon Lowe, chairman of the Grant Thornton Governance Institute on the highlights from our annual corporate governance review